Season 4 Pass for Power Rangers: Battle for the grid Coming September 21
By Tristan MacDonald • September 14, 2021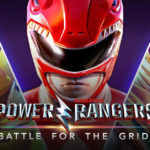 A new trailer for Power Rangers: Battle for the Grid has been released by IGN, announcing the game's Season 4 DLC Pass. With the game developing a dedicated following over its lifespan, it's good to see the game continue to receive support from the dev team, and it's always interesting to see what new characters are chosen across different series to be represented in Battle for the Grid. This season of DLC includes Adam Park as the Black Ninja Ranger of the Mighty Morphin' Power Rangers, Poisandra from Power Rangers Dino Charge, and the classic Power Rangers villain Rita Repulsa.
The DLC cycle looks to span the fall and winter, with Adam Park to be released in September and Rita finishing up the pass in December. The pass also includes a Commander Skin for Doggie Cruger, featuring his non-Ranger look as the leader of S.P.D. With this pass adding three exciting new characters to the game which has already gotten more support than people expected, it'll be interesting to see what people make of the new characters. The season pass releases on September 21st.
In This Article
Support Us
Go Ad-Free
Subscribe and become a Toptier Plus member today!
Subscribe