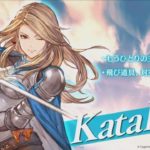 Xseed has dropped a new character trailer for Katalina in Granblue Fantasy Versus.
The trailer touts her as an all around type character who can close the gap using 'Light Wall' and pierce opponents with her 'Enchanted Lands' move. We see a few of her basic combos that lead to her thrust attack or her DP. We also see the usage of her barrier counter move and how the followup can stagger opponents.
One new thing that seems to be shown in the game play is that some moves and counter hits cause massive hit freeze that triggers a dynamic camera angle. The art direction of Arc System Works latest titles definitely show a lot of love being put into the visuals of their games.
See the full character trailer below:
In This Article
Support Us
Go Ad-Free
Subscribe and become a Toptier Plus member today!
Subscribe